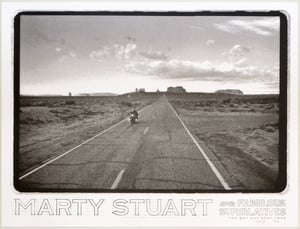 $

30.00
Newly commissioned by peerless guitarist and country music legend Marty Stuart, for the 2018 Way Out West tour. This print is based on Marty's own photography, lettered and realized for silkscreen print by Crosshair. Sold on tour in 2018, we have a limited number available here in the shop.
Can't fail to mention that Marty's backing group, The Fabulous Superlatives, may be the most whip-ass band of players in Nashville. Note also that on this tour Marty is playing THE original B-bender Telecaster, built by Clarence White. Can you tell we're excited?
Six-color silkscreen print, 23x 17.5, s/n edition of 120.