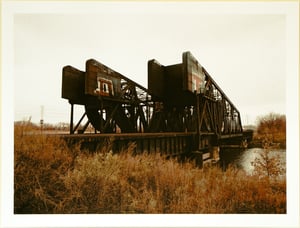 $

80.00
Ides #2 features the imposing and charismatic Pennsylvania Railroad "Eight Track" Bridge, aka the Scherzer Eight Track Bridge after its designer, William Scherzer. The Eight-Track Bridge was built between 1901 and 1910, and gained Chicago Landmark status in 2007. Though now in a fixed position, it is still in use, and is easily visible from Western Avenue and the Stevenson Expressway.
Eight-color silkscreen print, 23x17.5", edition of 75, signed & numbered by the artist.
MARCH 2019: 5 copies left!